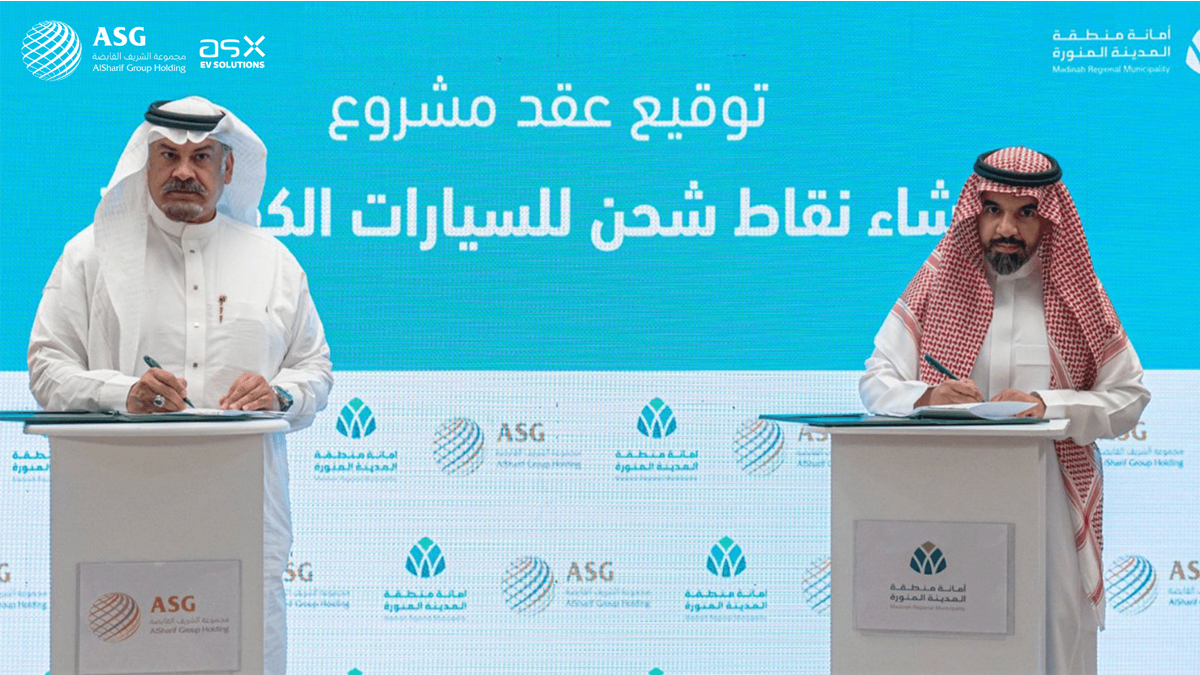 ASG News
ASX EV Solutions Signed an Investment Contract with The Municipality of Al-Madinah Al-Munawwarah
"ASX EV Solutions, a AlSharif Group Holding subsidiary, and The Municipality of Al-Madinah Al-Munawwarah, signed an investment contract to establish Electric Vehicles Charging Stations. "
The Municipality of Al-Madinah Al-Munawwarah region has signed an investment contract to establish and operate charging stations for electric cars, with Al-Sharif Group Holding, represented by its subsidiary Al-Sharif X for electric vehicle charging solutions, in a number of vital sites and pivotal roads in Medina.
The contract was signed by the Secretariat, His Excellency the Secretary of the region, Eng. Fahd bin Muhammad Al-Balishi, and from ASX EV Solutions sides, the group's deputy CEO , Dr. Ahmed Abbas Sindi.
This step is part of the initiatives in support of the Municipality's plans to expand and to establish more electric charging stations and provide proper charging infrastructure for electric car owners, which will enable them to charge their cars easily and conveniently, this henceforth encourages consumers to use this type of car, as well as support the environmental sustainability programs. This as well emphasizes the commitment to policies that contribute to reducing carbon emissions in line with the goals of transformation programs and the Kingdom's Vision 2030, in conjunction with pushing national efforts to localize the electric car industry in the Kingdom.
ASX EV Solutions by this investment is looking to expand its network of electric vehicles charging stations to include all regions of the Kingdom, to cover the needs of the electric vehicle owners of the Kingdom of Saudi Arabia in charging electric cars. This in-line with Al Sharif Group's commitment to be part of the Kingdom's Vision 2030 of achieving sustainability and prosperity.
The service is expected to provide advanced levels of the operational mode through fast and medium charging devices (AC-DC) with a power supply ranging from 22-200 kW in a model that conforms to the approved specifications and standards, in addition to building distinctive models of the charging stations with a visual identity in line with the directions of the Municipality in improving the urban landscape at the level of Medina.
The CEO of AlSharif Group Holding A. Nawaf bin Fayez Al-Sharif: "We are pleased with this agreement, which enhances the vision of Saudi Arabia 2030 aimed at environmental sustainability by motivating residents to acquire electric cars by securing different charging points around the city. We always look at "SharifX" as the technical arm of Sharif for this distinguished type of cooperation to improve the level of services and enable modern technologies.